Trinity Episcopal Church Staff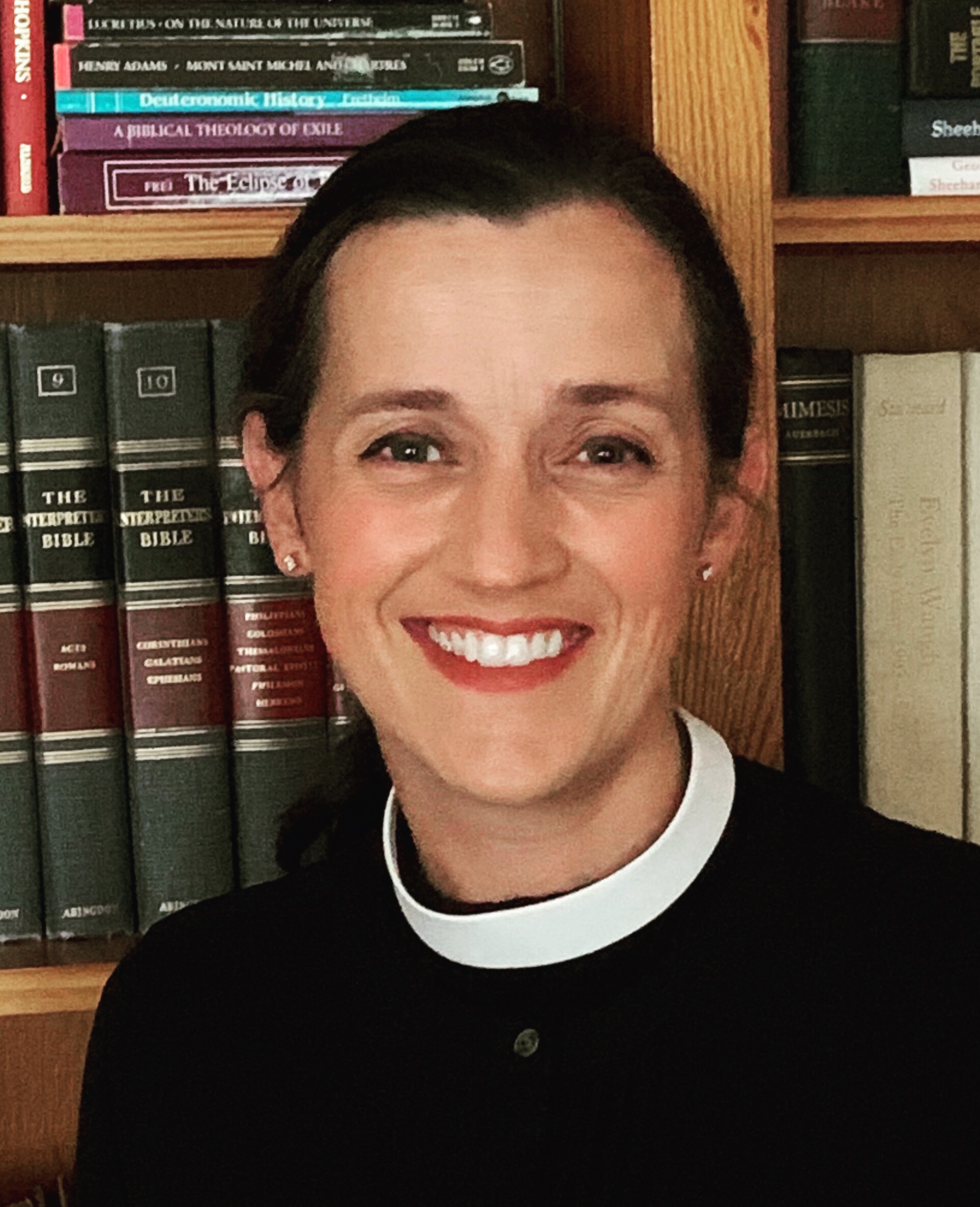 The Rev. Dr. Callie Plunket-Brewton
Rector
callie@trinityflorence.org
Callie is a graduate of Texas Tech University (B.A.) and Princeton Theological Seminary (M.Div. and Ph.D.). She was ordained in 2011 and has been at Trinity Episcopal Church since 2013. She is married to Vince Brewton, who is the Dean of the Honors College at UNA, and they have three children, Merrie Margaret (13), Alec (11), and Patrick (7). Her favorite verse of Scripture, in spite of being an OId Testament scholar, is from 1 John: "Beloved, we are God's children now; what we will be has not yet been revealed."
The Rev. Deacon Catherine Scheisz
catschiesz@aol.com
Catherine has been at Trinity Episcopal Church since moving to Florence in 1995.  She has a BA in French Literature from Sewanee.  Ordained to the diaconate in 2012, she has served at Trinity Episcopal Church since that time. Catherine has three grown children; Sarah, Mary Catherine and Jamie.  She loves spending time with her granddaughter, Maci.

Jarrod Randall
Interim Lay Canterbury Chaplain
episcopal.una@gmail.com
Jarrod serves as the Interim Lay Chaplain for the Canterbury ministry at UNA. He, his wife Katie, and their two sons, Arthur (5) and Harvey (3), have enjoyed being a part of Trinity since 2017. Jarrod has always had a passion for music and believes it to be one of his most significant ways of connecting with Christ and others. He has been a part of leading worship in various environments since he was a teenager. He hopes to exemplify leadership in peace, radical love, and inspiration to our college students in the Shoals. At such a pivotal developmental time, Jarrod believes students need relatable reminders of God's unconditional love amidst rapid relational and cultural expounding.
Jessie Vandagriff
Children's Ministry Director
childrensministry@trinityflorence.org
Jessie graduated from the University of North Alabama. She came to Trinity Episcopal Church in 2012. She currently works as our Children's Ministry Director working with children from 0-6th grade. She has two children, Carl and Oliver, and raises her boys alongside her husband, Simon, here in Florence.
Simon Vandagriff
Youth Ministry Director
youth@trinityflorence.org 
Simon grew up in Birmingham and went to Homewood High School. He studied History and Psychology at Auburn University, and is now working on a Master's degree in Clinical Mental Health Counseling at the University of North Alabama. He worked for Camp McDowell as a summer camp counselor for 3 years, and has now taken on the role of youth director here at Trinity Episcopal Church. Simon married his wife, Jessie, here at Trinity. They have two children, Carl age five and Oliver who was born in April of this year.   
Noël Beck
Organist and Choir Director
nmrbeck@comcast.net
Noël Morse Beck has been singing almost since the day she was born. By age 10, she was honing her hymn-playing skills by playing for family worship each morning. At 15, she became organist at her local church. She pursued her interest in her college studies, earning a double major in organ/church music and English literature. Noël and her husband Robert, also an organist, have two adult daughters, who have graced them with four singing grandchildren. Noël is also passionate about issues of human and environmental justice, peace, and equality.
Sheila Shelton
Bookkeeper
sheila@trinityflorence.org
Shelia has been the bookkeeper for Trinity Episcopal Church for sixteen years. She was baptized and confirmed at Trinity Episcopal Church and has been a long time member. Shelia and her husband, Monty, were married at Trinity Episcopal Church thirty-seven years ago and have both sung in the choir for over twenty-two years. Along with her family and pets, Shelia loves music and enjoys playing clarinet, alto sax, mandolin and violin.
Jessica Riley
Administrative Assistant
trinity@trinityflorence.org
Jessica began working at Trinity in August of 2019. She grew up in Tuscumbia and graduated from Deshler High School. She lives here in Florence with her husband, Josh, and two children, Weston and Abree. She enjoys learning new things and using her creativity to bring a spark to her projects.

LuEllen Redding
Life is Calling Grant Administrator
luellen@trinityflorence.org
 LuEllen has taken on the role of grant administrator for our newly-received Life is Calling grant. In this position, she has begun with the development of small-group curriculum, helping to overhaul our communication methods, and assisting in updating and re-organizing our directory. With the help of the Life Is Calling committee, there is much more on her to-do list as we, one day, transition out of the current pandemic situation. Be on the lookout for a new Trinity app that will help us all communicate more efficiently, as a church and within our small groups. LuEllen lives here in Florence with her husband Bill. They have 4 children, Lilli, Emmett, Nora, and Maggie.