Trinity Episcopal Church Staff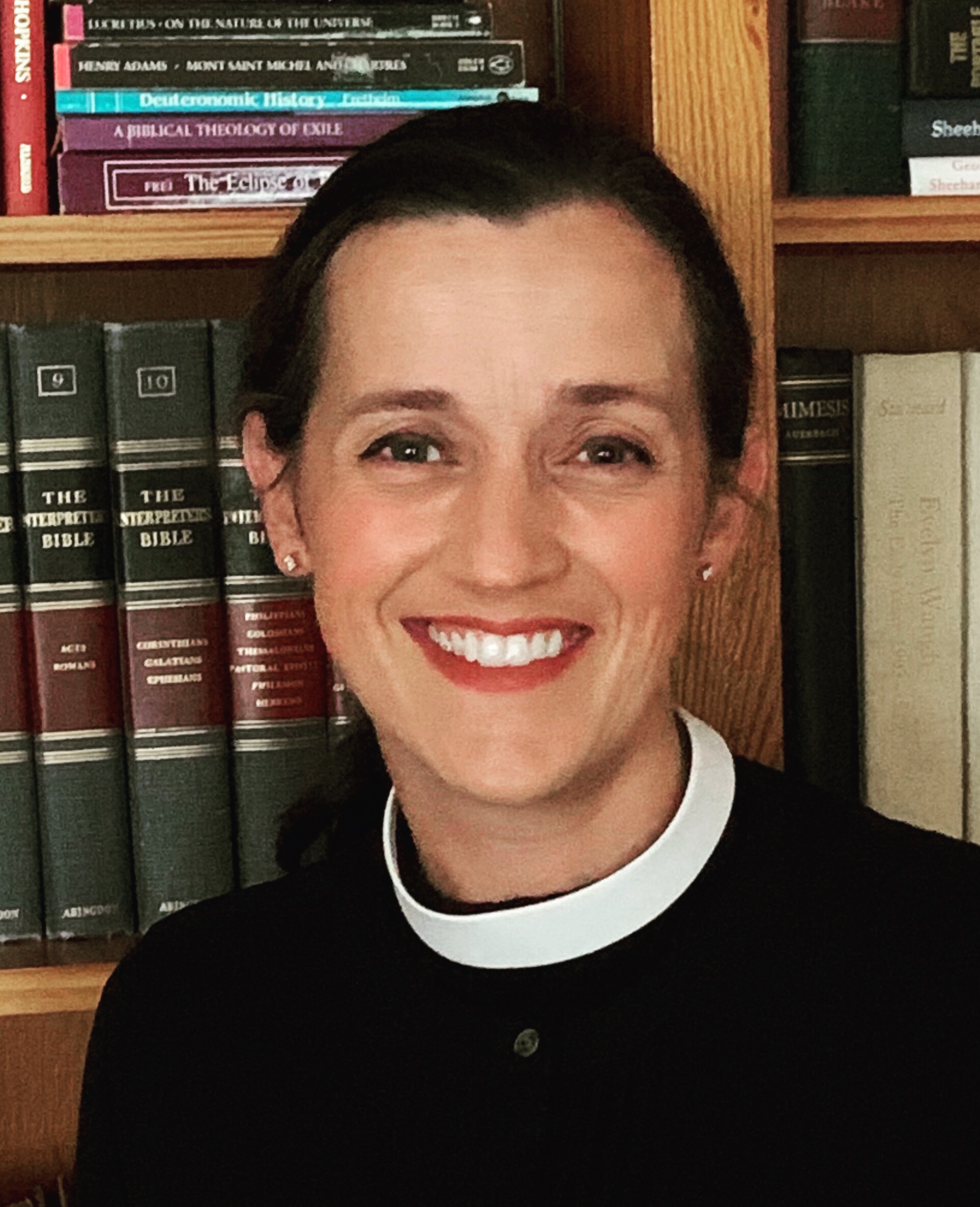 The Rev. Callie Plunket-Brewton, Ph. D.
Rector
callie@trinityflorence.org
The Rev. Callie Plunket-Brewton was called to be the 19th Rector at Trinity Episcopal Church in September 2020. Callie is a graduate of Texas Tech University (B.A.) and Princeton Theological Seminary (M.Div. and Ph.D.). Ordained in the Diocese of Alabama in 2011, Callie served first as Associate Rector at Trinity beginning in 2013 before receiving the call as Rector. Born in New Zealand and having attended high school in England, Callie is very proud to call the Shoals home. Callie is married to Vince Brewton, who is the Dean of the Cole Honors College at UNA, and they have three children: Merrie Margaret, Alec, and Patrick. "Beloved, let us love one another, because love is from God."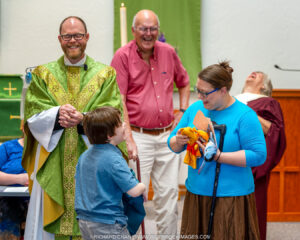 The Rev. Jake Andrews, Ph. D.
Associate Rector
jake@trinityflorence.org
The Rev. Jake Andrews was called to Trinity Episcopal Church in August 2023. Jake is a graduate of the University of Alabama (B.A.), Beeson Divinity School (M.Div.), the University of Aberdeen, Scotland (M.Th. and Ph.D.), and the University of Iowa (M.F.A.). In 2019, Jake was ordained to the priesthood while serving as a professor at Whitworth University in Spokane, WA. He spent the first years of his ordained life as an assisting priest at St. John's Cathedral, Spokane, WA, and, most recently, as the vicar of the Episcopal Church of the Resurrection, Spokane Valley. Gradually, he felt God's persistent call to full-time ministry and is so happy to have been called to Trinity and the Shoals, where he is also the priest-in-charge of St. Bartholomew's. Jake is married to Christina, and they have a son, Jonah. "At the beginning, I, Wisdom, was having fun, smiling before the LORD all the time, frolicking with his inhabited earth and delighting in the human race."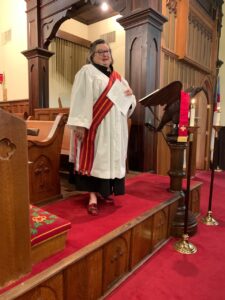 The Rev. Catherine Schiesz, deacon
catschiesz@aol.com
Catherine has been at Trinity Episcopal Church since moving to Florence in 1995.  She has a BA in French Literature from Sewanee.  Ordained to the diaconate in 2012, she has served at Trinity Episcopal Church since that time. Catherine has three grown children; Sarah, Mary Catherine and Jamie.  She loves spending time with her granddaughter, Maci. Catherine also serves as our Life is Calling Grant Administrator and uses her time and talents to organize our Care Committee, Worship Volunteers, and may other wonderful ministries here at Trinity.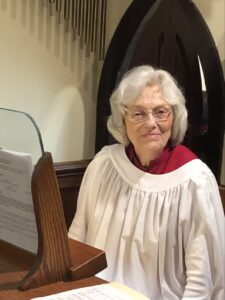 Noël Beck
Organist and Choir Director
nmrbeck@comcast.net
Noël Morse Beck has been singing almost since the day she was born. By age 10, she was honing her hymn-playing skills by playing for family worship each morning. At 15, she became organist at her local church. She pursued her interest in her college studies, earning a double major in organ/church music and English literature. Noël and her late husband, Robert, who was also an organist, have two adult daughters, who have graced them with four singing grandchildren. Noël is also passionate about issues of human and environmental justice, peace, and equality.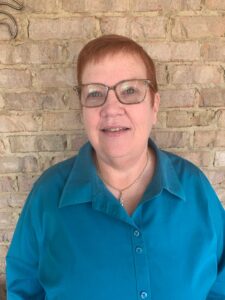 Sheila Shelton
Trustee Administrator
sshelton@hiwaay.net
Shelia retired as the bookkeeper for Trinity Episcopal Church after 22 years of dedicated service. She has maintained her role as administrator for the Trustees. She was baptized and confirmed at Trinity Episcopal Church and has been a long-time member. Shelia and her husband, Monty, were married at Trinity Episcopal Church. They both previously sang in the choir for many years and are actively involved in the Trinity Parise Band. Along with her family and pets, Shelia loves music and enjoys playing clarinet, alto sax, mandolin, and violin.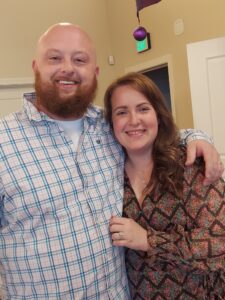 Jessica Riley
Office Manager
jessica@trinityflorence.org
Jessica began working at Trinity as our Administrative Assistant in August 2019. She took on the role of bookkeeper at the beginning of 2023 and manages the day-to-day office operations. Jessica began attending worship services regularly in 2021 and was confirmed in December 2022. She lives in Florence with her husband, Josh, and two children, Weston and Abree. She enjoys learning new things, being creative, and the community and family she's gained here at Trinity.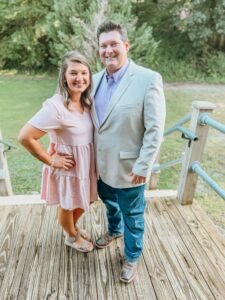 Lindsey Black
Children's Ministry Coordinator
childrensministry@trinityflorence.org
Lindsey and her family have been attending Trinity since January 2022 and she was confirmed in the Episcopal Church here at Trinity in December 2023. Prior to homeschooling her own children, she was a special education teacher and has served in other children's ministry programs in local churches for over 12 years. 
Lindsey has been married to her husband, Kyle, for 12 years. They have 4 kids; Bella, Becca, Maggie, and Asher. They are huge Disney nerds, enjoy going on hikes, and love the beach. Lindsey tries to spend as much time as possible outside, preferably around the fire pit roasting s'mores and watching a movie.
Lindsey stepped into the role of Children's Ministry Coordinator on September 1, 2023. She looks forward to building relationships with the parents of Trinity as she leads the children in learning about how vast God's love is and how we can love God and others well. Children truly are the future of any church and she is overjoyed to be able to pour into so many young lives.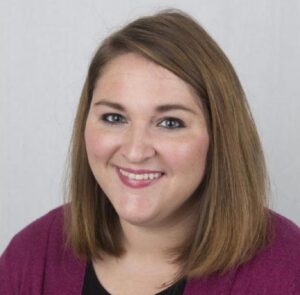 Kate Hanbery
Nursery Director
Simon Vandagriff
Youth Ministry Director
youth@trinityflorence.org
Simon grew up in Birmingham. He received a history degree from Auburn and a master's degree in clinical mental health counseling from the University of North Alabama. Simon is a lifelong Episcopalian and loves to share the traditions of the church with the youth of the Parish. He and his wife, Jessie, have four children: Carl, Oliver, Stella, and Matilda.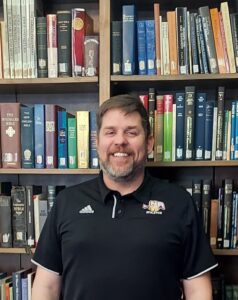 Jack Mann
All Saints College Ministry
allsaintscm@trinityflorence.org
Jack is from Birmingham and has been in Florence since 2005.  He graduated from Auburn University with a B.S. in Marketing. He has worked full-time in college ministry at UNA since early 2018. His wife, Kimberly, is a travel agent and they have 2 boys, Henry and Harrison. Jack was a part of starting All Saints College Ministry in 2022. His favorite verse associated with All Saints is 2 Corinthians 13:11-14 "Finally brothers and sisters, rejoice. Aim for restoration, comfort one another, agree with one another, live in peace; and the God of love and peace will be with you. Greet one another with a holy kiss.  All the saints greet you. The grace of the Lord Jesus Christ and the love of God and the fellowship of the Holy Spirit be with you all."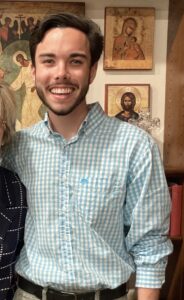 Gaige Tittle
Canterbury President
tittlecommunications@gmail.com
Gaige is a third-year student at the University of North Alabama and is the campus ministry leader for the Canterbury UNA program. Gaige is majoring in general biology with a minor in religious studies. He originally hails from Carbon Hill, Alabama. Gaige is a postulant for Holy Orders in the Episcopal Diocese of Alabama. One of his favorite verses of scripture comes from St. Paul's letter to the Romans: "Owe no one anything, except to love one another; for the one who loves another has fulfilled the law."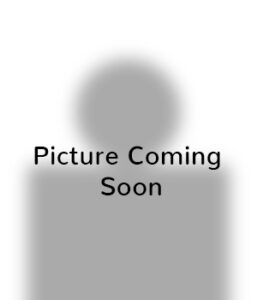 Duran King
Sexton