Sermon preached on Sunday, Feb. 10, 2019 by the Rev. Dr. Andrew C. Keyse:
I bring you greetings from our brothers and sisters across the diocese as we gathered February 8-9 at Camp McDowell for the 188th Convention of the Diocese of Alabama. This is the second time we have gathered at Camp since Bethany Village was built. We were welcomed on Friday by the large and enthusiastic Camp staff who always do such a wonderful job of taking care of us and all Camp guests. We were introduced to the new Executive Director of Camp McDowell, the Rev. Corey Jones, currently Priest-in-Charge at St. Francis, Indian Springs. Some of you may be familiar with Corey. He has been a fixture at Camp for many years, whether in Summer Camp or other events. He has Camp in his blood and will do a nice job.
We were then greeted by the Rt. Rev. J. Neil Alexander, Dean of the School of Theology at Sewanee. Dean Alexander came to thank us for all the support of the diocese for our University. It always strikes me a funny to hear it referred to as "our" university, but we have to remember that it is. We, as a parish in an owning diocese, are part owners of the University of the South, and it is our responsibility to help support this wonderful institution of higher education and seminary training. The Dean thanked us for our support, updated us about all the good things happening on the Mountain right now, and then thanked us for the model we give the Church in what we do at Camp McDowell. He called Camp the "Gold Standard" of Episcopal Camps and Conference Centers, and we should be quite proud of it. He said we, both the Diocese of Alabama and Camp McDowell, are the envy of other dioceses around the church.
The Rt. Rev. Ambrose Gumbs, Bishop of the Virgin Islands, was there and thanked us for our Companion Diocesan relationship. He updated us on what was going on in the diocese and invited us to come and be a part of all they are doing. They are still rebuilding and recovering in the aftermath of Hurricane Michael, and we have been a big part of that recovery. One of our resolutions at Convention renewed our Companion Diocese relationship for another three years.
The theme for this year's Convention was the Stewardship of Creation. It was year three of a three-year cycle. On Friday afternoon we heard from our Key Note speaker, Prof. Jim McClintock, a marine ecologist professor from UAB, author of Lost Antarctica, who has spent over 20 years working at the U.S. Palmer Station in Antarctica. He continues to work there even now. His presentation included a slide show dealing with climate change and the things that are happening in Antarctica. He said the temperatures are warming, glaciers are melting, ice sheets are getting smaller, and how the penguin population has changed over the years due to the warmer climate. It was all very interesting and he was a great speaker. He also told us things we can do to help the environment, and added some good news in that the hole in the ozone layer was shrinking due to our change in making refrigerants. He said the hold should be repaired by mid-century.
On Saturday we had the bishop's address. Just as Kee likes to do, he told us a story, and said maybe it was one we hadn't heard before. He told us a story having to do with his own calling. This story began with a calling to a parish in Mississippi early in his ministry. He said shortly after he started there he was met by a woman who had been at that parish for a long time. In a very opinionated and, I'm sure in her mind a loving way, she reminded Kee that this was not his church. Kee said he took that to mean she thought it was her church, but he didn't tell her that! The point that came out of that is that it is not his church, or her church, or our church – it is God's church, and we are simply stewards of it, and it is a privilege to serve. We are stewards of what we are given here in our own churches, stewards of what we do in this place, and it's up to us. Kee said if we think of our work in the church as an obligation, as something we feel we have to do but may not want to do…if we see it that way, we are doomed to fail. We are to be stewards in what we are given in this parish. We are the ones who make it live and breathe and act in this community, and in the world. We are stewards of that, but we also need to be stewards of the earth. The earth does not belong to us, it is God's as well, and we are to be good stewards of creation. Kee said being stewards of creation is not a political choice, it is serving God, and it needs to be our privilege to care for it…a privilege we share.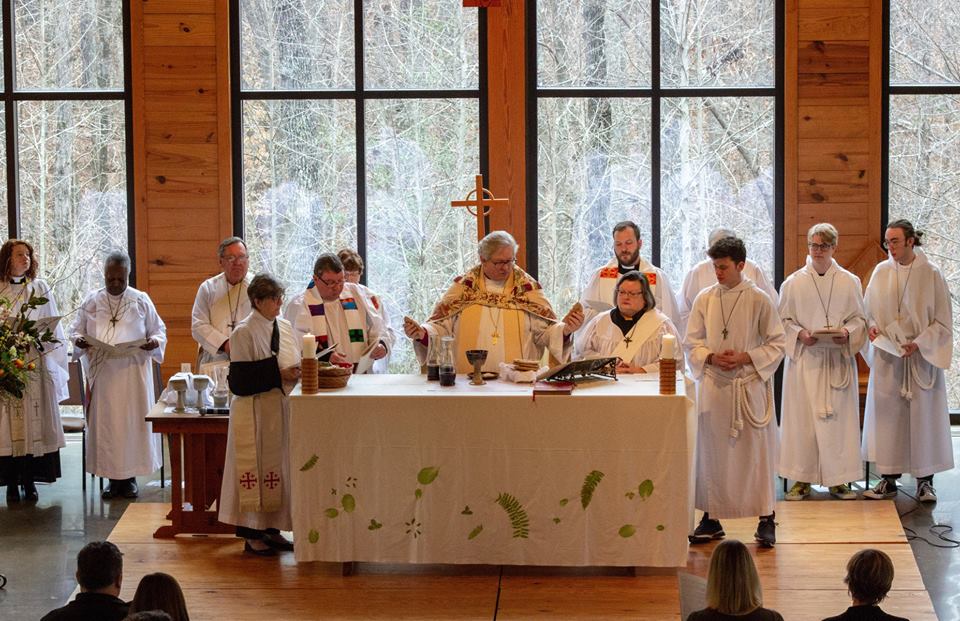 He then thanked the clergy, the clergy spouses and children for, mostly, putting up with the clergy. Tension does exist in the church, he said, changes do happen. The church we received from our parents and grandparents is not the same church we will hand down to our children and grandchildren. The world is not the same and change is faster than ever. How do we adapt the church for our times and still be stewards in an Episcopal way? Then he said the lines he likes to say in his blessing, the one almost exactly like the one Callie and I use. He said hold fast to that which is good, sing to the Lord a new song. We have to learn to adapt while still being good stewards of who we are, stewards of what God has given us. He said change happens. At this point we all began to squirm in our seats a little because we felt like something was coming…and then it did. Kee said sometimes change is needed, sometimes new energy is needed, and he called for the election of a Bishop Co-adjutor to succeed him when he steps down at the end of 2020. But, he said, that doesn't mean I'm a lame duck. I'm still the bishop, and will be through the end of 2020, and call upon the Standing Committee of the Diocese to form a search committee to help elect the 12th Bishop of the Diocese of Alabama. At this point I immediately thought, as one who serves on the Standing Committee, that I'll have to drive to Birmingham a lot more often now! And I will. Kee met with us after the Convention to explain to us how it will go. The Standing Committee is made up of four clergy and four lay people representing all districts of the Diocese. We will begin meeting with a consultant from the National Church, the Rt. Rev. Todd Ousley, and then choose a Chair for the Bishop Search Committee. Working with that Chair we will form the search committee itself and then we will step out of the way and let them do their work. They will then work to choose the candidates who will stand for election as Bishop. Right now we're not sure how long all that will take, or when the election will be. It may be at next year's Convention or it may be earlier or later. I will keep you posted as to the progress of this committee. There is hope that there will be some overlap and the Co-adjutor will get to work with Kee before his retirement. Co-adjutor simply means the election of a bishop who will become the diocesan bishop once that bishop retires. We are all called, he said, to be good stewards of all that we are given by God. We are called to be stewards in God's church, God's earth, and as stewards it is our privilege to serve.
Photos courtesy of The Episcopal Diocese of Alabama.